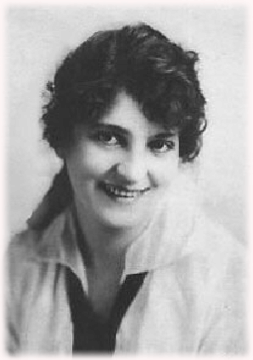 While there is no known official birthplace record, Helen Holmes stated in an interview that she was born in South Bend, Indiana, but grew up in Chicago, Illinois. She began working as a photographer's model but turned to acting, performing in live theatre and making her Broadway debut in 1909. She became friends with film star Mabel Normand.
Holmes began her film career in 1912 with Keystone in a bit part arranged by Mabel Normand. She made only a few more appearances in Keystone films and, although attractive, her lack of glamorous beauty relegated her to secondary roles until late 1913 when she signed with the Kalem Company's new Hollywood studio.
Helen Holmes' first film at Kalem was directed by J.P. McGowan whom she would develop a relationship with and soon marry. In her first two years with Kalem Studios, Holmes appeared in more than thirty film shorts during which time her athletic ability to do physically demanding stunts led to her big break.
At a time when the women's suffrage movement was much in the news, in March of 1914 Kalem Studios' competitor Pathé Frères released an adventure film serial titled The Perils of Pauline. Starring Pearl White as a bold and daring heroine, the Pathé serial became an enormous box-office success. As a result, Kalem Studios jumped on the bandwagon and in November of 1914 released their own adventure series called The Hazards of Helen.
Cast as the series star, during the twenty-six "thrill-a-minute" episodes in which Helen Holmes performed, she did almost all of her own stunts. Playing an independent, quick-thinking and inventive heroine, as part of her dangerous exploits Helen did such things as leap onto runaway trains or treacherously chase after bad guy train robbers. The Hazards of Helen made Holmes a major star and she and her now husband, director J.P McGowan, decided to capitalize on her fame and left Kalem to work for Thomas H. Ince Productions and Universal Pictures. After a few films, Holmes and McGowan formed Signal Film Productions to make their own adventure films. Between late 1915 and early 1917, they made a dozen films together that met with reasonable success but financial and distribution problems ended the production partnership and Holmes did not appear in another film until 1919, this time as the star in another film company's production. In 1919 and 1920 she made only one film each year and only two in each of the next three years. Between 1924 and 1926 Helen Holmes made eighteen more short adventure films but her popularity began to wane in a market over saturated with female cliffhanger films. Holmes made several Westerns opposite actor and rodeo performer Jack Hoxie in the mid-1920s.