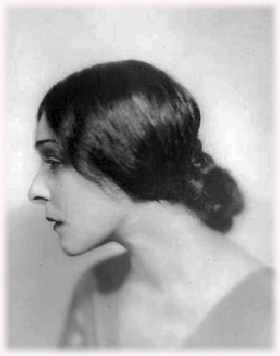 Alla Nazimova (Russian: Алла Назимова), born Mariam Edez Adelaida Leventon (Мириам Эдес Аделаида Левентон; May 22, 1879 – July 14, 1945) was a Russian/American theater and film actress, scriptwriter, and producer. She is often known as just Nazimova, and was also known as Alia Nasimoff.[1]
Nazimova was one of three children of Yakov Leventon and Sonya Horowitz.
Nazimova in the 1911 Broadway play The MarionettesNazimova's theater career blossomed early and by 1903 she was a major star in Moscow and Saint Petersburg. She toured Europe, including London and Berlin, with her boyfriend Pavel Orlenev, a flamboyant actor and producer. In 1905, they moved to New York City and founded a Russian language theater on the Lower East Side. The venture was unsuccessful and Orlenev returned to Russia while Nazimova stayed in New York.
She was signed up by the American producer Henry Miller and made her Broadway debut in 1906 to critical and popular success. She quickly became extremely popular (a theater was named after her) and remained a major Broadway star for years, often acting in the plays of Henrik Ibsen and Anton Chekhov.
Nazimova made her silent film debut in 1916, due to her notoriety in a 35-minute 1915 play entitled War Brides. This brought her to the attention of Lewis J. Selznick. Over the next few years, she made a number of highly successful films that earned her a considerable amount of money. By 1917, she was earning as much as $30,000 per film, with a $1,000 per day bonus for every day of filming. She was also given a $13,000 per week contract. At the time, actress Mary Pickford was on a $3,000 per week contract.
In 1918, at age 39, Nazimova felt confident enough in her abilities that she began producing and writing films in which she also starred. In her film adaptations of works by such notable writers as Oscar Wilde and Ibsen, she developed her own film making techniques, which were considered daring at the time. Her projects, including A Doll's House (1922) based on Ibsen, and Salomé (1923) based on Wilde, met with little popular success and lost a great deal of money.
By 1925, she could no longer afford to invest in more films and financial backers withdrew their support. Left with few options, she gave up on the film industry, returning to perform on Broadway until the early 1940s when she appeared in a few more films, presumably in need of money. Two of her best known roles today is that of Robert Taylor's mother in Escape (1940) and as Tyrone Power's mother in the film Blood and Sand (1941).